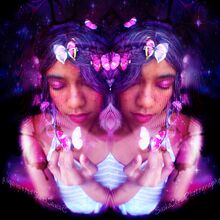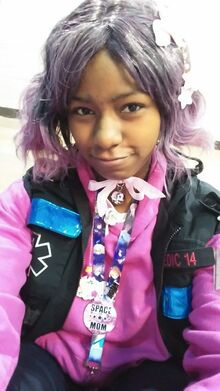 Saika★
[[|210px]]

Japanese
さいか★ (Saika)
Also known as
Trinity
Gender
Female
Age
24
Odottemita Status
Unknown
Odottemita Years Active
2010 - present
YT username


Saika★ (さいか★) is a Chicago, IL, USA based Nico Nico Douga/YouTube odorite She became active in early 2010 specializing in HipHop styles and Original Choreography.
Real name, Trinity as stated on their Facebook but not much is known from the origins of their odorite name. When asked they simply said, "Honestly I just made up a name an it stuck! LOL"
Appearance & PersonalityEdit
African-American/Japanese Saika is 170cm with an athletic looking build. They state they are about 67.1kg. Likable and cute personality this person is seen laughing a lot and making frequent jokes and repost memes. Others that know them state they are very harsh but protective over friends and loved ones. She mostly wears all pink or a pink themed outfit sporting a pink wig.
Dance StyleEdit
Saika's dance styles range from aidoru style dances to now Hip Hop and contemporary based dances. Mostly working on original choreography.
Pre-DebutEdit
Prior to being an odorite Saika was a local cosplayer in the midwest as well as photography.
First Posted video was a cover of "Anata Boshi" by Milky Way
PopularityEdit
Upon continuous J-Pop and K-Pop videos Saika began getting recognition when posting her "High Speed - Rotten Heresy and Chocolate" Cover from Nyantaro.
Notable Performances
Edit
N/A
Awards & RecognitionEdit
N/A
Stated on twitter she became inactive to raise her family, as of today she has 3 children and became married.
Insert other relevant headingsEdit
Recently Saika was featured on a utaite's twitter for a original choreography of their cover of Dear Doppelganger by Hiromi-Chan (@Hiro3nomium)
Collaborations
Edit
Dance UnitsEdit
N/A
Iconic Collaborative ProjectsEdit
N/A
Special Notices
Edit
Video RepostingEdit
Repost with Permission with proper credit and source
Image RepostingEdit
Repost with Permission with proper credit and source
Other relevant headingsEdit
N/A
List of Dances
Edit
Notice: Sorted with oldest uploaded first. If you see something missing that needs to be here, please add it. If you find a deadlink, please edit or give further notice.
ヤンキーボーイヤンキーガールー
Dance by さいか★
Choreography by さいか★
Saika is a licensed paramedic/EMT in the state of IL
Saika's mylist: mylist/34505128
She is fluent in spanish, japanese and korean
External Links
Edit
☀mylist/34505128
Edit
Youtube.com/theinitys
Facebook.com/daydreammilk-genocide
Twitter.com/senbonxsaika
UnofficialEdit
Other relevant headingsEdit
References
Edit